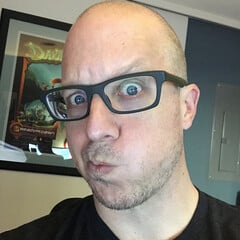 Matt Mocarski
Art Director/Illustrator/Game Artist
Seattle, United States
About
I wanted to be an artist his whole life. Growing up in the farmlands of Ohio, I spent most of my time in a dark basement drawing comic books and playing Street Fighter 2 and Mortal Kombat. I eventually escaped small town life moving to the West Coast where I studied Computer Animation.
I began his career in 1997 working in television animation as a storyboard and development artist. I was a lead artist on The PJs, a short-lived series by Eddie Murphy. During this time, my friends were having way too much fun making games and convinced me to join them at Crystal Dynamics as an Environment Artist on Soul Reaver 2. I somehow managed to continue my career in games working as an artist on such titles as World of Warcraft, Daxter, and WildStar. I then joined Amazon thinking I was going to deliver packages but ended up developing IP and art direction on several unannounced PC and Mobile titles for their games studios. Before co-founding Scuttlebutt Games, I briefly worked as Studio Art Director for King in Seattle.
At Scuttlebutt I handle all things art related, wearing as many hats as possible. I also do freelance and contract illustration on the side.
Skills
Art Direction
Illustration
3D Modeling
Texturing
Visual Development
Team Management
Project Management
Branding
IP Creation
Software proficiency

Blender

Illustrator

Photoshop

Unity

Procreate
Productions
Video Game

Daxter

Year

2006

Role

Artist

Company

Ready At Dawn

Video Game

World of Warcraft

Year

2005

Role

Senior Artist

Company

Blizzard Entertainment

Video Game

Soul Reaver 2

Year

2001

Role

Artist

Company

Crystal Dynamics

TV Production

PJs (Season 2)

Year

2000

Role

Lead Storyboard Artist

Company

Will Vinton Studios
Experience
In 2019 I co-founded Scuttlebutt Games focused on making PC titles. As a studio of two, I was in charge of all Art and asset development and co-developer on IP and Game Design. Over the course of a year I provided assets for a game prototype across the entire art pipeline including: Concept Art, 3D characters & Props, Animation, FX, Lighting, and UI using Blender and Unity.

As Studio Art Director I was in charge of Art Direction and Production on 3 titles. These included content updates for Paradise Bay; production for an unannounced title; and Art Direction/IP for a prototype title. I lead ~25 people across 3 teams. I also was a member of the Global Art Team setting company wide standards and production targets for art teams worldwide. Unfortunately, all North American development studios were shut down in 2019 due to massive layoffs across Activision/Blizzard/King.

I was hired at Amazon as Art Director for an unannounced PC title. The project was in preproduction for 2 years after being cancelled. During that time I lead a 20 person art team establishing the look, tone, and IP of the game. My remaining two years I lead an incubation team of ~5 artists pitching and prototyping new projects for mobile and pc. None of which were greenlit.

During my 9 years at Carbine Studios, I began as a Lead Artist focusing on Environments. After a year, the studio restructured and I was asked to take the role of Art Director. During that time I built and lead a team of 75 internal artists and outsourced assets from 3 studios. In 2011 I was asked to take on additional duties as Creative Director influencing the tone and story of the project and leading the creative on all marketing assets. For a brief period (4 months) before I left I was promoted into the role of Development Director, taking responsibility for all production across Art, Design, Engineering, and Audio.

As an Artist on Daxter, I was one of 2 artists providing textures for both characters and environments. As it was a small team I also provided some concept art, 3D modeling, FX, and UI work as well.

As a Senior artist on World of Warcraft I was in charge of texture maps, lighting, and set dressing for Cities, Building Sets, and Dungeon assets. Additionally, I provided concept art, 3D models, FX, and prop animation where needed. After WoW shipped I worked on several dungeons and building sets for the Burning Crusade Expansion.

At Crystal Dynamics I worked as an Artist on Soul Reaver for the Dreamcast and as a Texture and Lighting Artist on Soul Reaver 2. Considering the small size of the team, I also provide concept art and 3D modeling when needed.

At Will Vinton Studios (now Laika), I was a lead storyboard artist on Season 2 of the PJs (Fox), and Season 1 of Gary and Mike (MTV). Each lead was in charge of 7-10 episodes per season leading a 3 person team. At times the department also provided concepts for new characters appearing in their respective episodes.

Myers Entertainment Group was a small toy company that aspired to develop animated children's series for television. I was the primary artist for pitch packets that included character designs, splash images, storyboards and animation tests.